Society of International Sport & Leisure Photographers
Licentiate
Associate
Qualification application form HERE
Eat your words! Eat your words! I am the greatest. Muhammad Ali shouting at reporters who had dismissed him as a loudmouth and a fake before his fight with Sonny Liston.
Join The Society of International Sport & Leisure Photographers today!
Monochrome Photography Competition is now open for entries
Enter your best monochrome images into this exciting photo competition and be in with a chance of winning an Olympus OM-D E-M1 Mark II Digital Camera with 12-40mm PRO Lens worth over £2,000!
Enter here: >>> http://thesocieties.net/monochrome/
---
Your perfect domain name is here! .photo / .pics
For a limited time, you can get .photo or .pics for just $9.99* for the first year!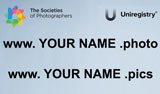 Find your perfect .photo/.pics >>> www.societies.photo/
Last Modified: Friday, 21 September 2018